Construction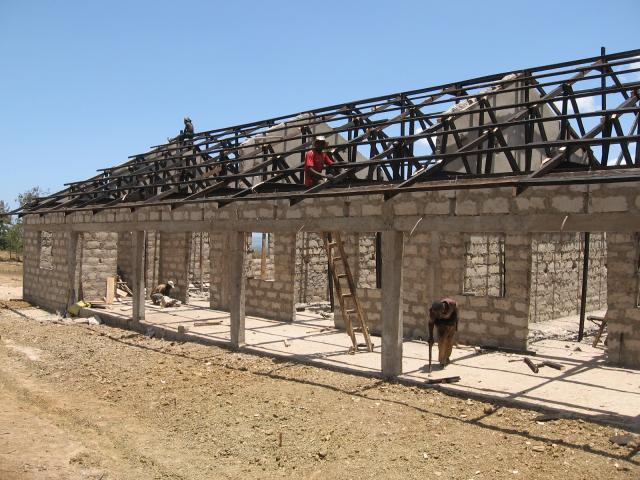 Koins entered this part of Kenya building schools, and we continue to enlarge our area of operations and the number of educational buildings. We constructed the first Koins building in 2003, replacing a dilapidated mud hut with dirt floors. That kindergarten structure was torn down and replaced with a simple cement block building, cement floors, and chairs for sitting instead of rocks. Enrollment tripled in size in a matter of days.



In 2011 our 28th structure was built within the Koins Service Area. We house more than 7,000 students within our schools and child development centers for younger children. We have proven that if you provide an environment for learning, the children will come to participate.



Koins has seen a variety of needs come from the tremendous growth of our schools. For our Secondary School it's better for the young ladies to remain close to the school instead of walking great distances in the dark to their homes. Through the Lauren E. Mulkey foundation, Linda Mulkey saw to it that the young ladies of the Mnyenzeni Secondary School had a comfortable and secure home away from home. The Lauren E. Mulkey dormitory (known as the The L.E.M.) was completed in 2008. Linda Mulkey provided this facility in memory of her only daughter who was killed in an automobile accident in 2007. This dorm now provides a happy living space for 88 of our Mnyenzeni Secondary School girls. The old dorm was very cramped and decrepit, and in need of repairs.
Koins Community Center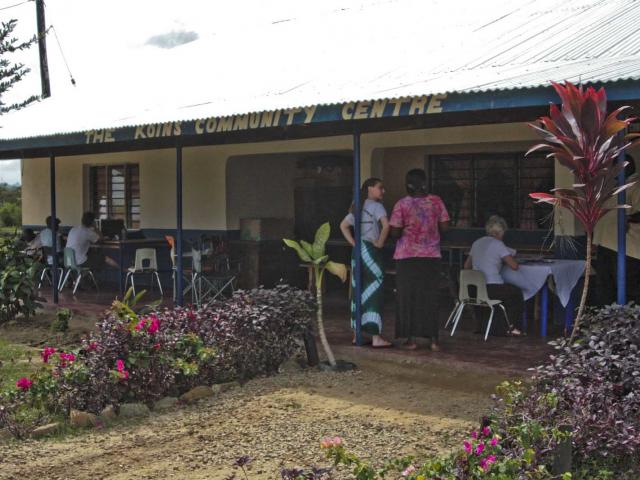 The KCC is the center of operations, but also the beacon for our entire community area. Stretching over 150 sq. kilometers, the Koins Service Area touches the lives of everyone within this community through our schools, adult education, volunteering or working for construction projects, to the planting and harvesting of our crops. At the center of all our activities is the KCC, which was the first building within our entire area to have electricity. While our expeditions are in the area, we stay at the KCC. When government officials pass, or community meetings are held, everything occurs at the KCC. Our women's groups and school festivities also find a home at the KCC. It truly is the center of this expanding community.




Ben Taylor Workshop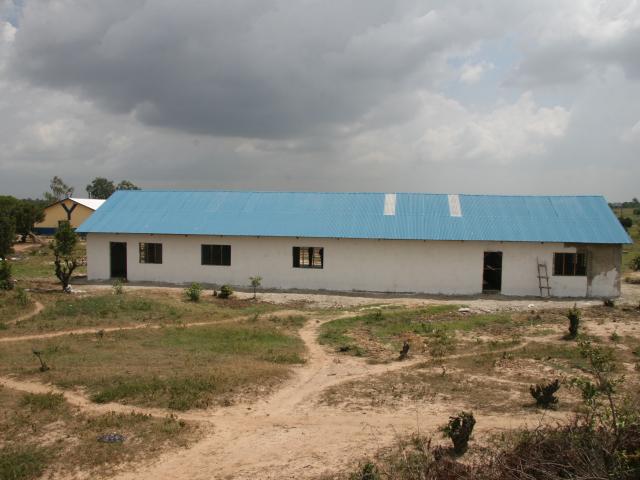 Ben Taylor Workshop – The BTW is a large building that was completed in December 2008. It is named after Bret Van Leeuwen's grandfather, who was a craftsman and humanitarian, and Bret's best friend growing up. It is located next to the KCC and will be connected to the electrical power there. Its purpose is to provide a professional workshop space for our trained employees who will build windows and door frames, desks, bookshelves for our libraries, and tables and chairs for the community with all the power tools that Koins has shipped over.



Within the BTW also provides a large space for our Women's Sewing Guild. Robbin Street, an expedition participant in 2007, began this project by organizing to have 5 Pfaff sewing machines and supplies brought with her as a personal project. For the next 3 weeks, 8-10 hours per day, she instructed a small group of women who had never touched any kind of machine like this. It was slow going at first, but once they caught on, great progress was made daily. By the time Robbin departed, the women were able to sew uniforms for our children, make simple repairs to our children's clothing, and even make attractive handbags from their traditional kanga dress material. Up until now they had to share space in the Koins Community Center, but with the new BTW they will have their own separate area dedicated to their sewing projects, which will allow their work to continue uninterrupted regardless of other village activities and expeditions.





In 2011, Koins partnered with individuals and organizations that will be providing new construction project opportunities to the Koins service area, including the manufacturing of a hand operated drill for water wells/bore holes. Koins will be manufacturing these drills at the BTW in Mnyenzeni, for distribution throughout eastern Africa.
Water Cisterns and Dams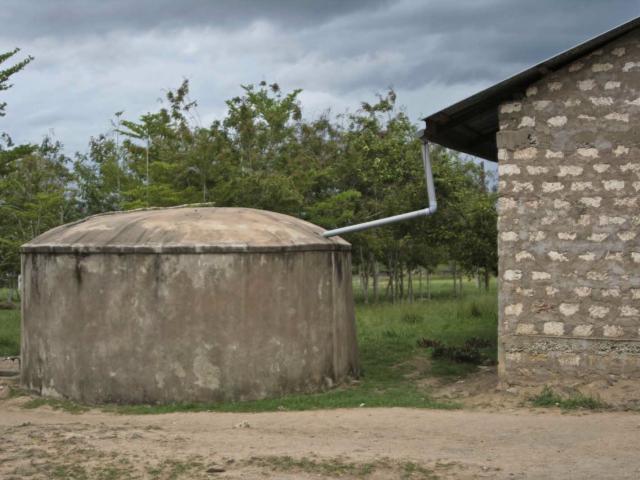 Having sufficient water is a constant problem in our entire service area. Koins constructs water cisterns next to the buildings we build, and through a simple gutter system we catch the water from our roofs and store it in large 30,000-50,000 liter cisterns. Not only is the water available during times of drought, but it is comparatively clean compared to the small ponds and puddles that are typical water sources.

In November of 2011, a dam was constructed not far from the KCC. What started as an experiment in collecting seasonal water turned into a resounding success story, as the dam held up to the torrential rains that fell, and captured substantial water, turning a dry creek bed into a deep and wide expanse of water. This is something Koins hopes to recreate in various places throughout our service area.












---